How to get to Rainbow mountain
Rainbow Mountain in Peru, also known as Vinicunca. Over the years, the journey to this natural wonder has undergone numerous changes
Rainbow Mountain in Peru, also known as Vinicunca. Over the years, the journey to this captivating natural wonder has undergone numerous changes, with new routes emerging almost every two years. In the past, the longest route to Rainbow Mountain required a 7-hour round-trip vehicle travel, followed by a difficult 6-7 hour hike. It was a true test of endurance, demanding an entire day's commitment. However, due to land ownership disputes and rivalries between nearby villages, the communities surrounding Rainbow Mountain have continually constructed new roads, progressively shortening the hiking distances. Today, I will share with you two of the quickest and most accessible ways to reach Rainbow Mountain from Cusco, ensuring you make the most of your visit to these awe-inspiring Rainbow Mountains.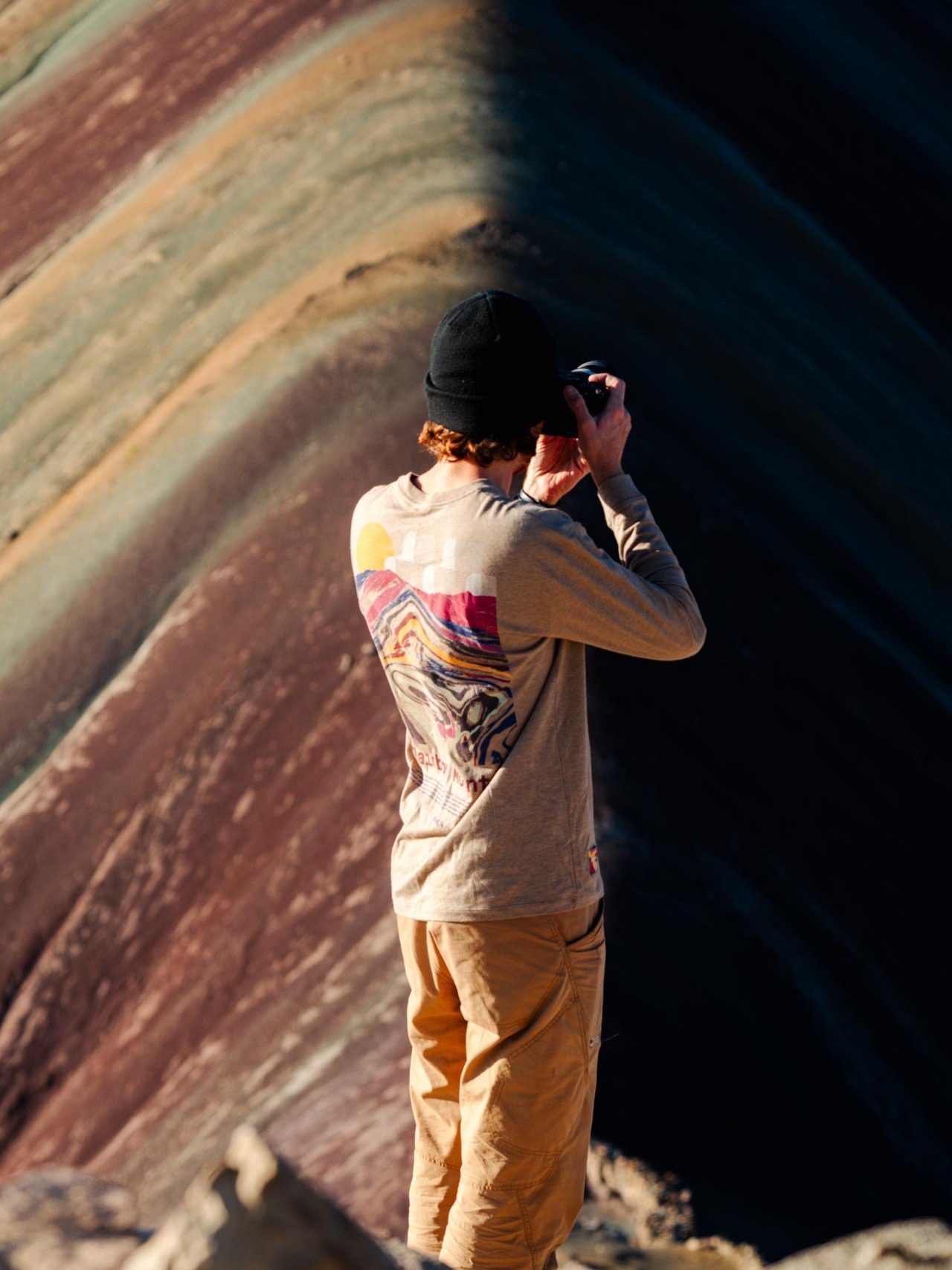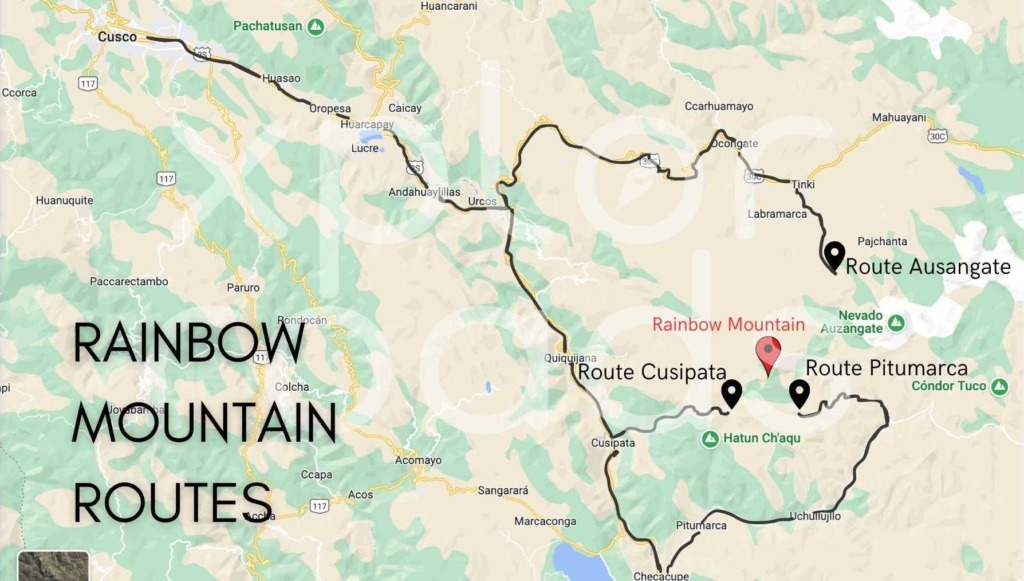 Let's start with the oldest and the longest out of the two.
Getting there by yourself:
Rainbow Mountain from the city of Cusco, step by step First and foremost, your quest begins with securing transportation from Cusco to Checacupe. You have two options at your disposal: hiring a taxi or opting for public transport from Avenida Tomasa Tito Condemayta (the bus station to Ocongate and Sicuani). This portion of the trip should cost no more than 10 or 15 soles, and it should take no more than 2 hours.
Arrive at the location where cabs are waiting for eager travelers like yourself. When you get to Checacupe, you must carefully negotiate the price with taxi drivers before they take you to Peru's Rainbow Mountain.
This section of the journey costs around 180 to 200 soles. Be assured that the amount paid covers the taxi's vital service of waiting for you while you ascend and descend the magnificent peak before safely returning you to Checacupe.
The ride from Checacupe to Rainbow Mountain takes about 2 hours. Although you will not go on a guided tour, you will encounter locals and a few hikers at the Qayrawiri parking lot. The trail to Vinicunca is highly visible, so you don't have to worry about getting lost. The round-trip hike takes about 2 hours, but plan on spending an extra 30 minutes to an hour at the summit. This extra time allows you to take in the beautiful views, enjoy some delicious food, or sip a cool drink while soaking in the full splendor that surrounds you.
Back to the taxi who will transport you back to Checacupe. Once you arrive, kindly request your driver to take you to the bus stop. This is the most convenient way to return to Cusco, as finding taxis headed in that direction can be a challenging endeavor. The entirety of this expedition generally spans between 12 to 14 hours, leaving you with a day imbued with enchantment and adventure.
the best:
For those seeking a less crowded experience, this is a less popular path to Rainbow Mountain nowadays. Only a few intrepid souls will pass through on this road, including only a couple of automobiles every day and some solo travelers who rely on out of date blog entries for guidance. 
One notable feature of this route is the availability of ATV trips and motorbike rides for rent, providing a new option for people who do not wish to hike to the Rainbow Mountain viewpoint.
the not so great:
Among the two options available for a day hike, this particular route stands out as the longest journey, taking approximately 4 hours from Cusco by car. While the hike itself is shorter (1 hour), the availability of motorbikes and ATVs instead of horses can be somewhat bothersome. The altered mode of transportation has significantly impacted the overall experience of immersing oneself in the natural beauty of the surroundings. The presence of noise from these vehicles can occasionally disrupt the serene ambiance, detracting from the peaceful nature appreciation that one seeks in such a remarkable location.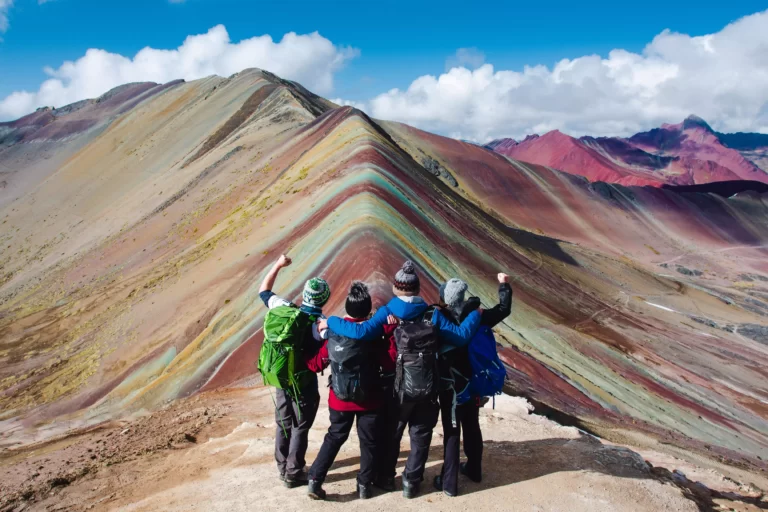 Getting there by yourself:
To get started on your journey to Rainbow Mountain, take a bus as early as possible in Cusco, Board the buses going for Sicuani from Av. Manco Capac, but remember to get off before reaching Cusipata Town, the bus ride takes around 2.5 hours. Once at Cusipata there are a handful of restaurants in the town where you may have breakfast, but I recommend avoiding them due to sanitation concerns. From Cusipata, you can reach Chillihuani (Trailhead to Rainbow Mountain) by taxi or small vans. The taxi ride costs around 100-120 Soles, and the journey takes approximately 50 minutes. Once you reach the end of the dirt road which also serves as the parking lot, you can choose to hike to Vinicunca Rainbow Mountain on foot or hire a horse from the locals if you prefer.
The hike follows a west to east route, covering a round trip of 5 km, and takes about 1.5 to 2 hours one way. It consists of a smooth uphill trek with an elevation gain of 380 meters (1,246 ft).
Here is a map on all trails App to follow during your hike. [click here]
For the return journey, ensure you negotiate with your driver to wait for you and take you back to Cusipata. In Cusipata town, you can catch the buses that are heading back to Cusco from Sicuani. Most of these buses usually make a stop at the bus stop in Cusipata, so make sure to inform your taxi driver to drop you off there.
Alternatively, you can opt for a more convenient and comfortable option by hiring a taxi from the city of Cusco. The average price range for taxis is between 350 to 400 Soles, but  you could try to find a lower fare .
the best:
This route is the quickest way to reach a rainbow, driving for 3 hours. and hike a 2-hour journey one way, uphill, to reach the viewpoint. The hiking trail is easy to follow and well-loved by many, so you won't easily lose your way. In the mornings, you'll find vendors along the hike, as well as opportunities to take pictures with alpacas and llamas.
the not so great:
If you prefer peaceful hikes like I do, this trail can get really crowded. There are usually 800 to 1000 people hiking, and there are also horses with tourists that kick up dust. It can be tough to find a quiet spot to enjoy the beauty of nature.
Alternative Options to Consider
Rainbow Mountain day tour with a tour company
There are numerous tour companies offering a variety of costs, services, and additional services. Navigating through this sea of options can be daunting for travelers, as it's challenging to discern which company truly provides the best service and what exactly is included in their prices. 
It's important to note that not all high-priced companies necessarily offer the best services. Many of them heavily rely on marketing tactics rather than delivering exceptional tour experiences. So, how can you ensure that you choose the best tour company? Here are some valuable tips to consider.
First and foremost, verify that the company you're considering is a genuine tour operator in cusco. Some travel companies simply act as intermediaries, selling tours and then outsourcing the actual execution to third parties. As a result, the level of quality service may not be under their direct control. Additionally, it's advisable to select a company with extensive experience in the industry. Years of operation often indicate a solid track record and a deeper understanding of customer needs.
Furthermore, it's essential to choose a company that specializes in the specific area or tour you're interested in. In Cusco, for example, there are companies that excel in organizing Inca Trail adventures, offering exceptional service and expertise. However, these same companies may not provide the same level of excellence for alternative tours such as Rainbow mountain or Palcoyo in the region.
For those seeking a more adventurous and immersive experience, an alternative way to reach Rainbow Mountain is through a multiday hike and camping expedition. Starting from the northern face of Ausangate, this hike can take up to 3-4 days, depending on your hiking level and expertise. You have the option to backpack on your own, allowing for a truly independent adventure. However, if you prefer a more comfortable and leisurely experience, joining a guided tour is recommended. To delve deeper into the details of this incredible journey, I invite you to read our complete guide on Ausangate to Rainbow Mountain, where you'll find all the information you need to embark on this remarkable trek.